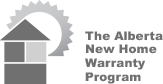 Alberta New Home Warranty
Mission Homes is an active member of the Alberta New Home Warranty Program and will register your home accordingly. Members of this prestigious program must have a history of expert home building with a proven record of quality and leadership.

Built Green
Mission Homes is a proud member of Built Green™, an industry-driven, volunteer program that adds value to new homes by promoting resource-efficient and eco-friendly construction. As a member of this organization, we create opportunities for homebuyers to make positive environmental choices without compromising quality or style.